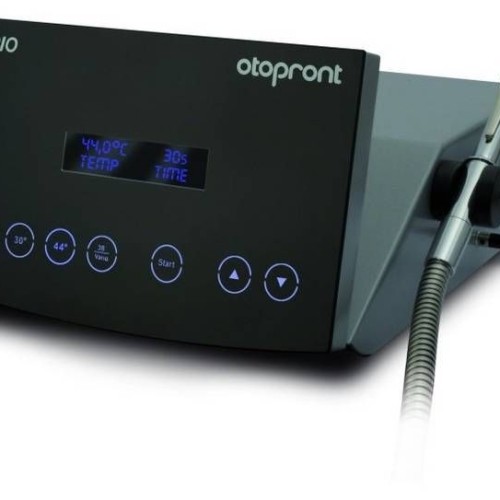 Vario water
High operating comfort for the vestibular examination
This caloric stimulator has been created for use in clinics as well as in general physician's cabinets. Time consuming aspects of the vestibular examination are speeded up by a high degree of automatisation. The rest, count and irrigating period is exactly set and / or can be adjusted by means of the time automatic and operating logic. The exeptional stability of temperature in the water reservoir is rendered possible by use of sophisticated electronic components and the fact that the temperature is measured at several points.
What is especially striking is the temperature measuring by means of a highly sensitive PTC element, which is fitted directly in the distal part of the irrigator handpiece. The temperature indicated thus is exactly the temperature of the irrigator liquid which is applied in the test person's ear. The sensor cable of the PTC element is carried in the highly flexible water tube. A closed water system prevents effetively the calcification of the continuous flow heater, keeping the cost of energy low. The general principle of the continuous flow heater, ie: cold water circulating continuously is heated and rejected (therefore strong calcification) has been significantly improved. The closed rotary system only opens in order to reach lower temperatures (from 44° to 30°C) so that heated water can be expelled. Because of the few amount of water rejected, no drain is required, only a little canister is needed. In that case only an installation of water supply is required. Because of the quick coupling system it is no problem
to use the Vario at different places. For maintenance and service purposes, the handpiece with the tube can be easily removed without tools (snap closure).
Vario dry
The caloric evoked nystagmus by irrigating of both ears with warm and cold air is an itegral part of the vestibular examination, as commonly done in the ENT office.
The comparative caloric test requires exact control and producibility of all parameters of the stimulus such as amount of air flow, temerature and duration of action of the stimlating medium. The VARIO DRY has been designed to meet these requirements.
The VARIO DRY provides a constant cold or warm air flow, with the air flow temperature being electronically controlled. A digital timer ensures exact reproductibility of the irrigation period.
The use of air as the caloric stimulus offers the distinct advantage that the caloric irrigation can even be conducted as a perforated tymanic membrane and that, furthermore, water supply and drain systems are not necessary.