Sistema Mityvac de Ventosa
Controlo, Segurança, Eficacia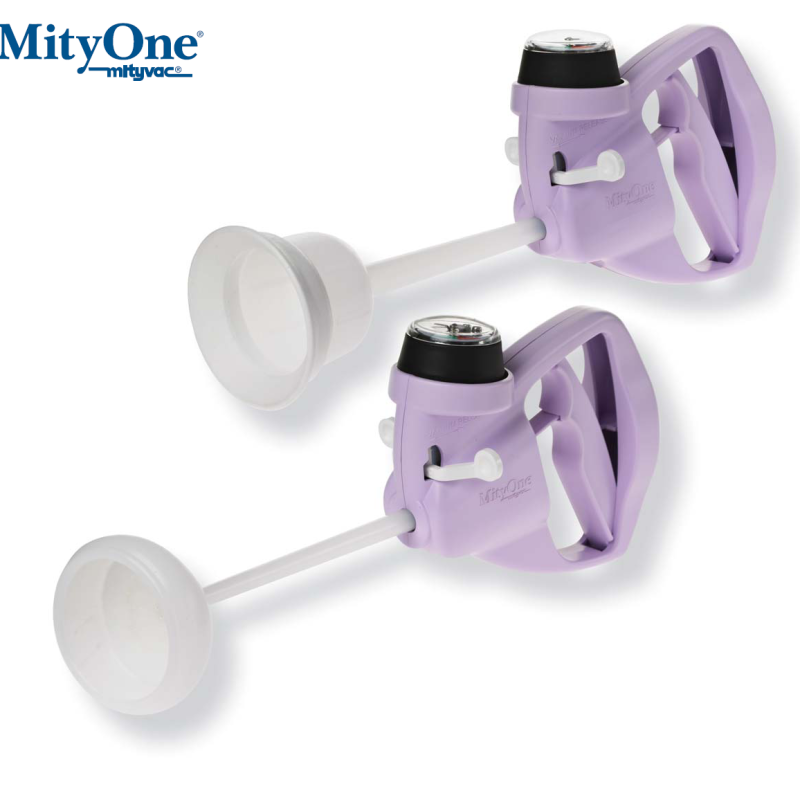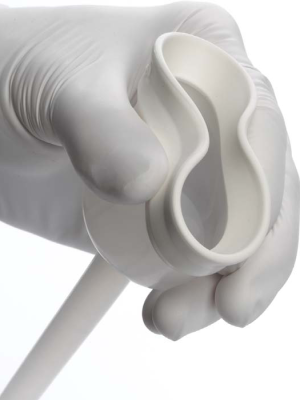 MityOne Ensures Greater Control for Safer Vaginal and C-Section Deliveries
MityOne, the latest introduction to the Mityvac family of products, provides optimal safety for patients and superior control for clinicians. Newly redesigned based on feedback from prominent obstetricians, this versatile, one-piece unit offers significant benefits for deliveries:
• Shorter stem for improved tactile feedback and intuitive handling
• Self-limiting pressure gauge will not exceed recommended suction levels of 58 cmHg
• Soft bell cup interface results in less trauma versus hard plastic cups1,2
• Extremely high efficacy rate of up to 97% for the mushroom cup3
• Prominent vacuum trigger release placed closer to operator to ensure ease of use
• Rotating, semi-rigid stem will not transfer torsion to baby
• Convenient tray packaging allows for easy stacking and storage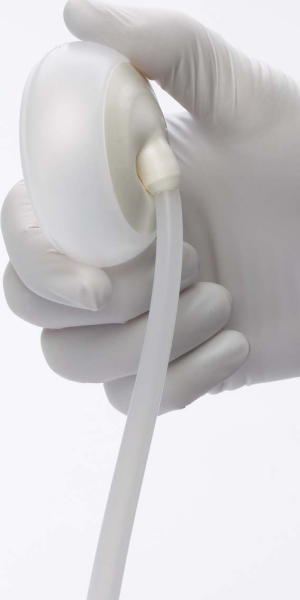 MityOne® is Gentle, Effective and Easy to Use Throughout the Arc of Delivery
MityOne's semi-rigid, shorter stem offers improved tactile feedback for greater control. It helps minimize pop-offs by allowing physicians to accurately determine the relationship between the stem and the baby's head when following the Arc of Delivery.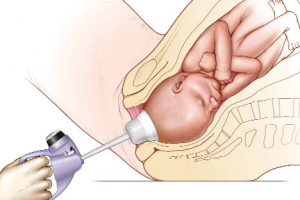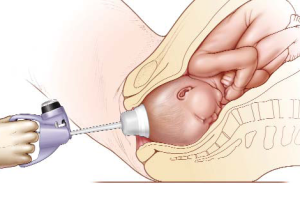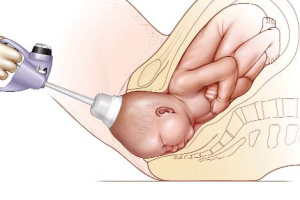 The gentle but effective M-Style Mushroom® Cup has a proven success rate of up to 97% with laceration rates averaging less than 1.59%.3, 4, 5
1. Choose the appropriate MityOne cup based on fetal presentation.
2. As station is gained, the axis should be positioned downward toward the patient's rectum initially.
Then, as the baby's head crowns, the axis should be extended above the horizontal position.
3. Once the baby's head is delivered, slowly release the vacuum using the release trigger and remove the cup.
4. Continue delivery in the usual manner.
Refer to the Directions for Use for full vacuum-assisted delivery guidelines.
From the Innovative MityOne® to the Mystic® II and the Trusted Mityvac® – Make the Choice That's Right for You
For over 20 years, the Mityvac family of products has ensured safer vacuum-assisted deliveries.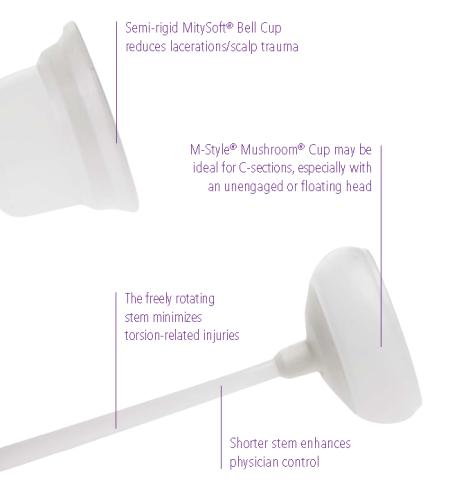 Highest Efficacy Rate Minimizes Laceration Rates and Pop-Offs
MityOne cups strike the perfect balance of safety and efficacy
The gentle but effective M-Style® Mushroom® Cup has a proven success rate of up to 97% with laceration rates averaging less than 1.59%.3, 4, 5
The semi-rigid MitySoft Bell Cup reduces the risk of pop-offs while providing pulling power approaching that of a mushroom cup. Both cups have an integrated filter that allows 360° air movement around the perimeter and center of the cup – enabling a secure, reliable and repeatable traction level.
One-Piece Mystic II System
The Mystic II is a one-piece fully disposable system that incorporates all of the Mityvac's safety and efficacy, while allowing the physician to control the device without assistance.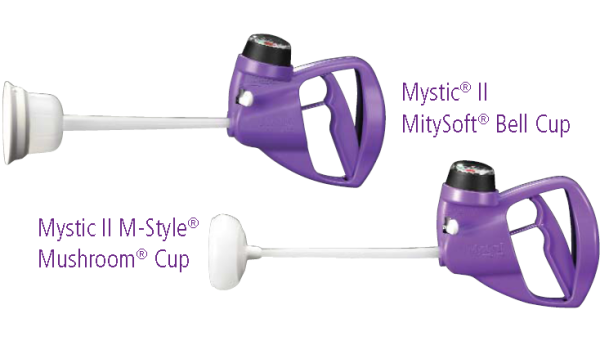 The Original Mityvac Two-Piece System
The original two-piece Mityvac system is comprised of the reusable Mityvac pump and a variety of cup options to meet every clinical challenge.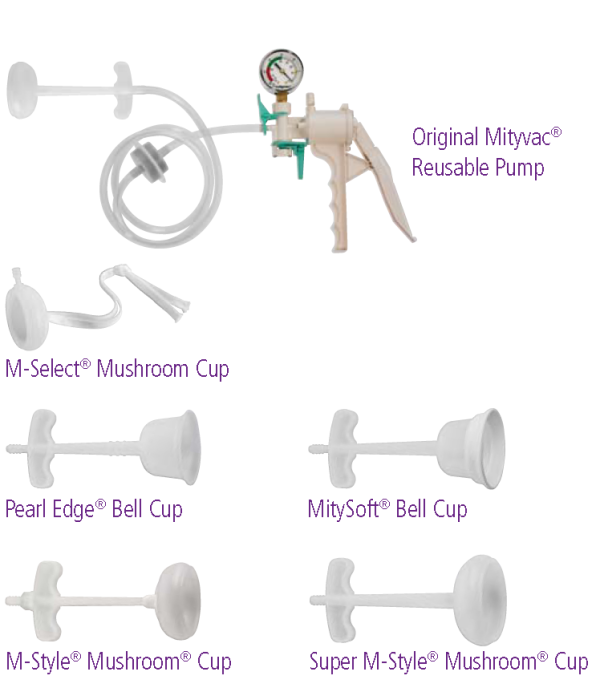 MityOne Vacuum Cups
10067
MityOne Pump with M-Style® Mushroom® Cup
12 un/cx
10068
MityOne Pump with MitySoft® Bell Cup
12 un/cx
Mystic II Vacuum Cups
10057
Mystic® Pump with M-Style® Mushroom® Cup
12 un/cx
10058
Mystic® Pump with MitySoft® Bell Cup
12 un/cx
Mytivac Cups and Vacuum Pump
10022
Mityvac Reusable Handheld Pump
1 un/cx
10004
Standard Pearl Edge® Extraction Cup
12 un/cx
10007LP
M-Style Mushroom Cup, 50 mm
12 un/cx
10008
Super M-Style Mushroom Cup, 56 mm
12 un/cx
10020
MitySoft Bell Cup, 64 mm
12 un/cx
10137
M-Select® Mushroom Cup, 50 mm
12 un/cx