BOWA ARC 400
Performance na ponta dos seus dedos.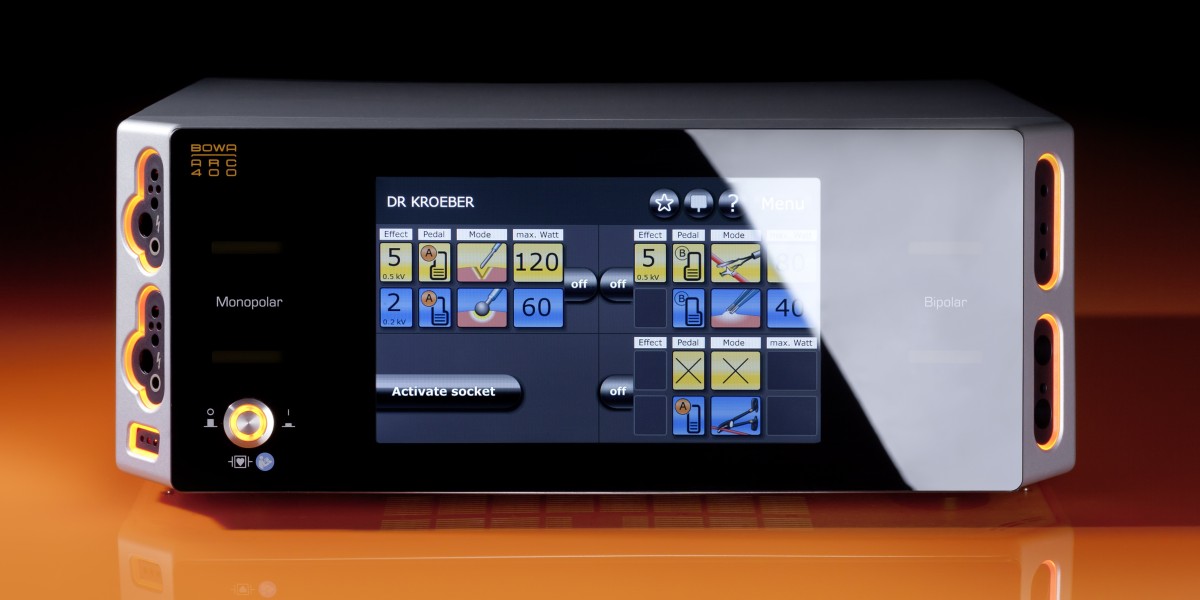 Coração e alma do Bloco Operatório.
Descubra a nova geração de unidades de eletrocirurgia com o ARC 400.
A verdadeira paixão e o máximo desempenho.
Personalised configuration
Every field has specific requirements, every team works differently and every procedure is individual. This is why the ARC 400's interactive touchpad allows you to freely configure the user interface
according to your requirements. Select the pre-configured indication-orientated standard values or create your own individual preferred settings for your field and work style.
Intuitive handling
Attain real performance by working intuitively. The interactive fingertip operation of the touchscreen and clear relationship between the controller and instrument give users a complete overview – in
every situation. The Plug'n Cut function recognises instruments and Plug'n Cut COMFORT also automatically preselects the right basic settings for whichever COMFORT instruments are connected.
Efficient operation
Its ease of use and safe operation, its special LIGATION function and the ability to connect up to 5 instruments to the ARC 400 simultaneously save valuable OR time.
The ARC 400 communicates rapidly with other system components and software is updated simply via USB and several standard connections, ensuring that you can also work efficiently in the future.
BOWA ARC 400
Veja como é inteligente e intuitiva
a tecnologia TOUCH.
Touchpad technology allows enhanced intuition in the OR
With the ARC 400 you have fingertip control of all device functions via the interactive touchpad, using clearly designed symbols. Effects, favorites, and individualised settings can be easily and clearly selected. Menu depth is generally limited to only two levels, because you want to be working, not searching.
A logically-constructed user interface
The large, high-definition display is divided into four quadrants that correspond to the four sockets on the sides: if you attach an instrument to the upper right bipolar socket, for example, the upper right quadrant of the display is activated and you immediately know where you need to make your adjustments.
What You See Is What You Get
The icons behave according to the WYSIWYG (What You See Is What You Get) principle. These clear graphic symbols have a preview mode. If you adjust the desired effect to your individual requirements, the preview changes.
Always work with the correct socket
The touch pad provides outstanding operating convenience with its underlying functions and the display's innovative user logic. When adjustments are made to the display, the corresponding instrument socket flashes, offering just the right support in the darkened environment in the OR.
More than an interface: videos on the display
Simply use the touchpad display to brief and train new employees. Insert the USB drive with the introductory video, and a presenter begins demonstrating the functions of the ARC 400.
Smart – and hygienic – display
The ARC 400 display is made of flat, wipe-resistant, shatter- and scratch-proof safety glass. The benefit of this is that the touchpad technology eliminates joints and grooves, thereby ensuring fast, hygienic cleaning in the OR.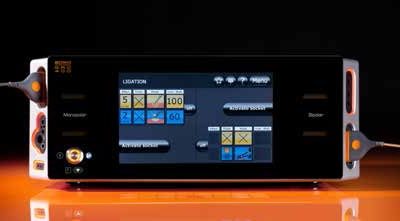 Clarity: Every connected socket – in this photo the upper left and lower right – is clearly assigned to one quadrant of the display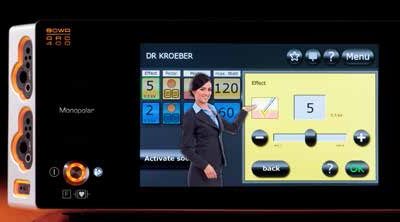 Help: The introductory film can be played directly on the device
BOWA ARC 400
Work efficiently – on a high-tech basis
Passion is nothing – without the right technology
Excellent results depend on the right technology. In addition to the innovative socket design that allows up to two monopolar and three bipolar instruments to be attached simultaneously and is compatible with all popular standard connections, there are numerous hardware and software components that can also directly affect performance in the OR.
– ARC control arc regulation for reproducible monopolar and bipolar cutting results – Up to 9 effects per mode – EASY neutral electrode monitoring with contact monitor, baby mode with automatic power limitation – Current leakage monitoring – Short circuit detection – ISSys permanent system self-testing – CCS permanent initial cutting support – Configurable socket design – Information area for device messages – Operating instructions available directly on the device – CUT modes: e.g. standard, dry, cardiac, GastroCut loop and knife, MetraLOOP, laparoscopy – Micro-regulations and power forms for plastic and neurosurgery down to 0.1 W – COAG modes: moderate, forced, spray, cardiac – Autostart function
BOWA ARC 400
The specialist for vessel sealing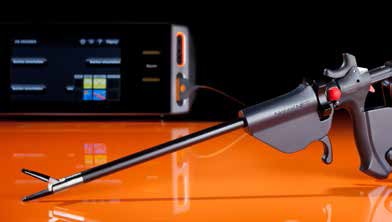 ARC 400: the vessel sealing specialist
With the ARC 400 and BOWA Ligation instruments, such as TissueSeal PLUS for open surgery applications and NightKNIFE also for laparoscopic applications, large-bore veins, arteries and tissue bundles with diameters of up to 7 mm can be sealed permanently and securely by bonding elastin and collagen to each other. The LIGATION sealing technique guarantees procedures free from residues and foreign bodies with sealing reliability of up to 700 mmHg.
Optimum procedural results, thanks to outstanding ergonomics and tactility, are a further bonus for surgical artists. The massive potential for time-saving in the OR, as well as savings in terms of suturing materials and clips and instrument re-usability, are all key features to convince even the strictest cost controller.
Two hundred times instead of once
BOWA LIGATION instruments can be reused up to two hundred times. As shown in the graph, there are massive cost benefits over single use instruments, even after only 50 procedures.
Cost benefits of BOWA NightKNIFE® compared to single use instruments after 50 procedures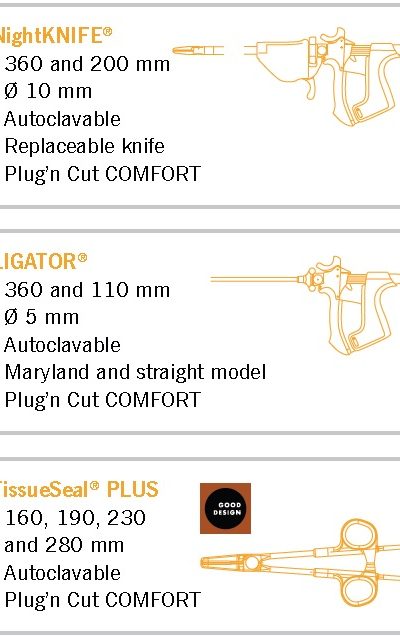 BOWA ARC 400
Inumeras aplicações especificas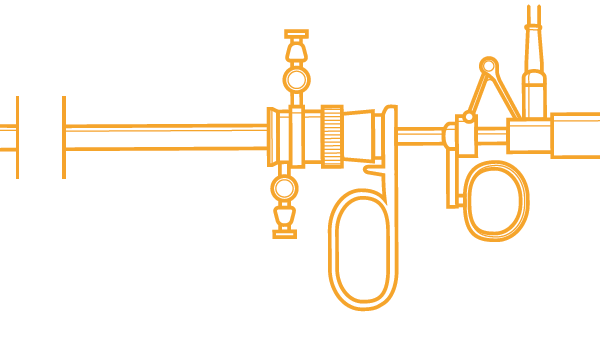 Bipolar resection for urology
Bipolar resection with the ARC 400 stands out on account of its extremely reliable initial cutting and high resection speed.
Reduced irritation of the obturator nerve and bipolar technology hugely increase operating safety in this field. Using saline solution as a medium prevents the danger of TUR syndrome.
In addition, monopolar transurethral resection of the prostate (TUR-P), surgical treatment of bladder tumours (TUR-BT) and vaporisation of the prostate tissue (TUR-VAP) can also be carried out with the ARC 400.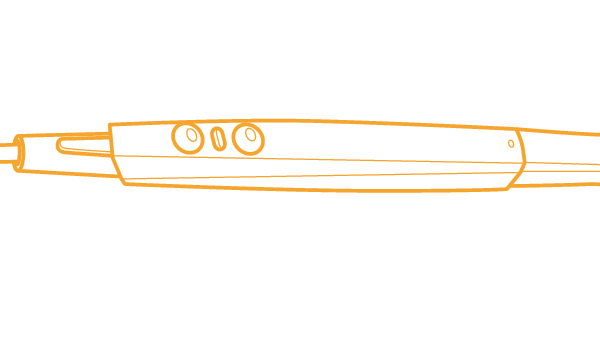 Quadruple specialities:
functions for cardiac surgery
Four highly specialised functions for effective work are available for use in the field of cardiac surgery:
– Monopolar SimCOAG for simultaneous coagulation and preparation with two monopolar handles
– Cardiac thorax for forced coagulation when opening the thorax
– Cardiac mammaria for forced coagulation in the area of the mammaries
– Dry cutting for strong haemostasis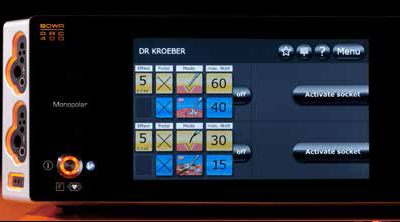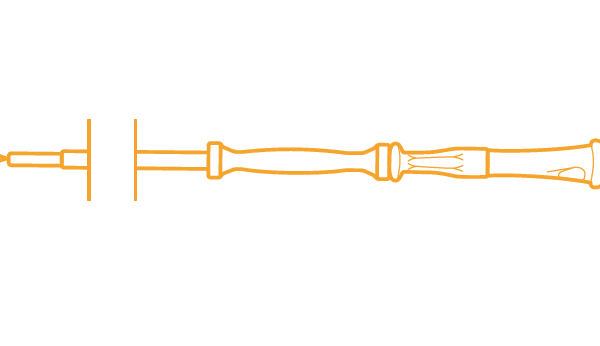 For gynaecology: faster removal
In addition to the modes for vessel sealing and monopolar and bipolar resection, a special function is available in gynaecology for laparoscopic supracervical removal of the uterus (LSH).
This mode – combined with the BOWA MetraLOOP instrument – offers more rapid cutting of the loop for uterus removal. Work can be accomplished safely, rapidly and precisely, even with large loops.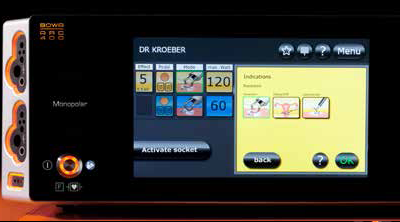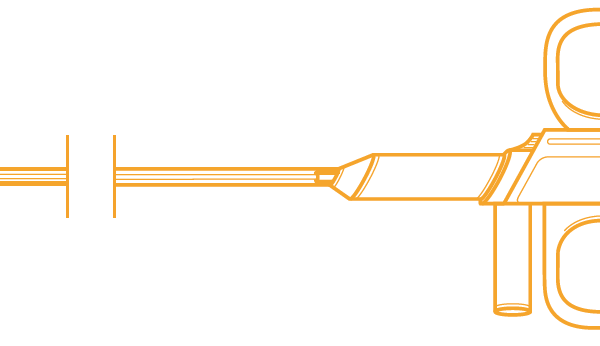 GastroCut for gastroenterology
With the ARC 400's GastroCut modes, gastroenterologists can achieve the best results with polypectomy and papillotomy and endoscopic resections with loops or knife electrodes. Gastroenterologists can adjust the haemostasis level of cutting and coagulation power to three speeds "slow", "medium" and "fast" as required to meet their needs.
The cut is optimised, the surgeon controls the cut's coagulation effect through the effect in nine steps. This allows the surgeon to work cautiously to avoid complications, as well as proceeding rapidly when the situation allows it.